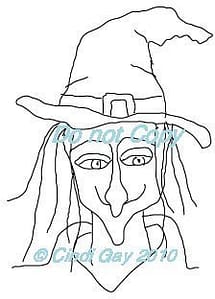 When my husband saw this on my computer he asked if it was a self-portrait.  He was joking but I remember in art class that they always told us that the portraits we drew would look a bit like ourselves.  At least until we perfected the technique. I am far from perfect, but am I a witch? A bit harsh, David.
I've always wanted to hook a halloween rug.  I don't decorate much so I will probably sell it once it is done, but I'd love to hook a green witch. Megan gave the opportunity to get started when she asked me to color plan a halloween pattern that she had.  She thought it had a witch, but it didn't.  I could add one if I wanted, the note said.
After I tweek this a bit more, I will work up Dracula and maybe Frankenstein.  What else would you like to see in a halloween design?