I cannot get the automatic calculator to work on this website, but it works inside The Rug Hooking Journey. If you are a member, click on the link, log in and just enter 4 numbers. The calculator will tell you exactly how much yarn you will need.
Not a member yet? Join here.
Width + Width + Length + Length = Perimeter in inches
Perimeter in inches divided by how many inches your whipping covers = number of pieces of yarn you need.
Number of pieces of yarn you need * the length of the strand you used in your test = Number of inches of yarn you need.
Number of inches of yarn you need divided by 36″ = Number of yards you need.
Check your skein of yarn. You probably only need one skein. My room-sized rug will only take a tiny bit more than one skein.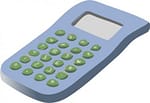 Whipping a rug takes a long time. Ripping it out because you run out of yarn and have to start over with something else is a nightmare. Run the numbers before you begin.
Do a whipping test
Use a piece of scrap backing and prepare the edge so you can practice whipping. A section to be whipped about 8″ long should be enough.
I typically use a 5′ or 60″ long piece of yarn to whip my rugs. Do not let the yarn shop wind the yarn into a ball for you. Instead, leave it in a skein and untwist it so it is a circle. Cut through one place on the circle through all the strands. That will quickly give you strands of yarn that are approximately the same length, about 5′ long.
Use one piece to whip your scrap sample. Now enter your numbers above and count out the number of strands you need. Do you have enough? You'll know right away.
No time to do a test? Most rugs will only use a fraction of a skein. You can whip 594 inches or just under 50 feet using my example of 4.5″ of whipping from a 60″ strip using my favorite whipping yarn, Cascade 220. That is a rug larger than 12′ x 12′.