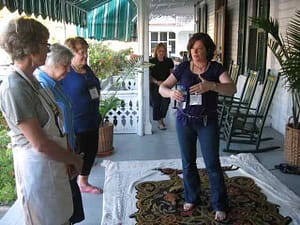 One of the most trying things about attending a workshop is getting your turn with the teacher.  Students often fear that they will have nothing to do for the first half of the first day, others bring an unrelated project to occupy their time.  I attend several workshops a year.  I've been on the waiting side of that process so when I teach I always remember the student's point of view.
Preparation before the rug hooking workshop
During a workshop there is a limited amount of time and I must split my time between everyone as fairly as possible. Some students will need more time the first day, others have more questions toward the end of the week.   If you have a more complicated rug I recommend having a full color plan so you go home with a fully planned rug.  There is rarely enough time to make all the decisions necessary for a complicated rug during the time we will have at camp.  Pre-planning also gives me time to dye something I may not have on hand.
I will work with you in the months and weeks before class gathering information on the colors and the style you will use to hook your rug. In addition to colors, be sure to let me know what cut size you want to use.  A typical wide cut pattern can be hooked in #4 or #5 cut.  The smaller cut size will limit the wools that can be used. Some wools do not hook well at the smaller cuts.
Getting a rug fully color planned can actually save you money because you are buying what you need for that rug, no more and no less. You have a focused plan – in writing, depending on the rug design – so you can relax and have fun. The entire rug is planned before the rug camp starts, no last day panic.
I can color plan your rug using some of your own wool but I will be limited by what you have.   I know you have a lot of wool at home. We all do. That is part of rug hooking. I attend 2-3 workshops a year but I still find plenty of wool that must go home with me each time. Using some of your wool often involves some compromises, but we can make it work.
Not all of us are planners.  The other extreme of a fully planned rug is no preparation at all.  Just respond to the email I send out so I know you got it.  You can then take all the time you need to select your project.  If possible and even at the last minute, please let me know what you are hooking, so I can pack visual aids or hooked examples.
The first day of rug camp
Instead of taking a full day to get around the room, some teachers can make the rounds in 1/2 day or even less!  They do it by spending 1/2 as much time with each student.  It's a simple matter of mathematics.  I organize my class differently.  For me it is a matter of quality rather than quantity. Rather than rushing through the process, I spend 100% of my time with 100% of my students from the first moment of class and I give each student 100%.
How I do it is simple.  I encourage you to watch every rug planned.  You get the benefit of all the tiny tips passed on and may even be inspired to try a new style of rug hooking.  Instead of getting 1/15 of my time on the first day, you can get it all. I started this process because I was curious about what the teacher was saying to the student across the room while I was waiting for my turn. I was sure there was something I could learn if I could just see and hear what they were talking about.
During the preparation for the workshop, I get to work with some of the rug designs.  If I've planned a rug with a good lesson I will choose that rug to go first. After the lesson, you decide if you want to continue. Was that helpful? Do you want to see more? If so, just hang out. If you do not find the process to your liking, I want to plan your rug next so you can get back to hooking. I am usually begging for people to go next after the first 3-4 rugs.
Why you come to a rug hooking workshop
We all come to rug camp for different reasons.  Sometimes it is to learn everything you can, other times it is to run away from home and the pressures of real life.  Usually it is something in between.  If all you want is to get hooking, volunteer your rug right away.  You can then return to your station and begin hooking.  I usually find myself begging for rugs.  Everyone wants to see the rest of the lessons.  That's OK, you can get your rug color planned and stay in the group.  The class is here for you to get out of it what you need.  If you want to hang out until the end, all I ask is to be sure everyone else who wants to get hooking has their rug planned. This process often takes a full day.
My classes are very informal.  If you want to take an afternoon and go shopping or sleep in, go ahead, this is your workshop.
Do you have a picture of me teaching?  Send it to me using the Contact Form.  Leave a comment below about your experience in one of my classes.