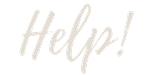 I'm sorry to hear that you are having trouble with the lessons in the course. Here are some common solutions.
If you don't find a solution to your problem, I want to know. Call me if it is 9am -7pm eastern at 419-287-3884 or send me an email at cindi@cindigay.com. I want to help.
Trouble Signing In for Online Courses
Video coming soon.
How to Register for the Live! Rug Hooking Lessons