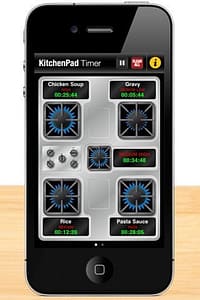 The perfect kitchen timer for dyeing wool is another iPad app. It works on the iPhone or the iPad and is only .99 as of today. The more I use my iPad the more uses I find for it.
This timer is great because you can set the time for each burner. Rarely do my dye pots come to near boil at the same time. I always cook at least 30 minutes after this point. I can now put the pots on the stove, keep an eye on them until they reach near boil, then add the acid and set the timer. No more need to "cook a bit longer to be sure." The iPad version even has a timer for the oven, a center burner and four other miscellaneous timers.
I used to try to remember (I say try because it only worked some of the time) to write down the time for each burner, but it always got out of sync. I am anxious to give this timer a real work out this winter.