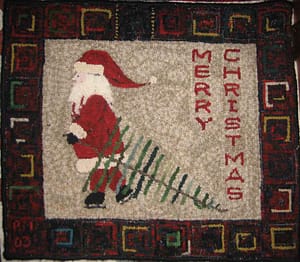 This is the original. I designed this pattern for Pat Mensing. Here is her version of this rug hooking pattern. I love the block border around the outside border. It's a great way to add interest and to use up those scraps.
See more hooked examples of the rug hooking pattern, The Day After.

Have you hooked this pattern or one of my other rug hooking patterns?
I would love to see a photo. Please let me know if it is OK to share it on this website, if not I will keep it private. Be sure to include your full name and home town. If you have any questions or comments, contact me using the Contact Me link in the menu above.
I would love to get feedback on how much wool it took YOU to hook one of my patterns. I plan to have wool requirements for all patterns. To help me set priorities, please ask about wool requirements for any pattern you cannot find listed.