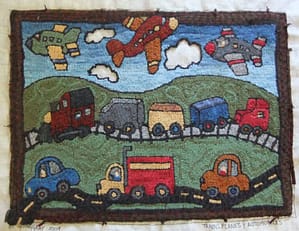 It is easy to get overwhelmed with the decisions you need to make for rug hooking if you do not have the guidance of a teacher. To make the decisions easier, especially for children's rugs, consider outlining everything in a nice dark wool, preferably a texture. Then you just have to fill in the blanks. Sally used this approach for this delightful children's rug that she hooked for her grandson. The pattern is from Going Gray.
I snapped this photo when she came by for some cloud wool. Notice that she is using my realistic sky on a primitive or cartoon-like pattern. I think it gives a wonderful sense of depth for the airplanes.
I initially started out with the same outline solution to outline in dark for Ally's Cat. I ran into a problem because the medium dull background color drained the color from the cat, even with the dark outline. I really noticed the problem when I hooked the tail and the hit and miss background around it. The delightful tail just disappeared. Then it dawned on me to add a white outline. It worked for the tail so I used the same solution for the rest of the cat and was able to salvage the dull medium background. While the dark outline is used everywhere, the white one is only used on the outside of the cat and around the features.