Here are the predesigneed pictorial patterns for our class next week. The smaller sizes suit cuts 3-5, the medium 4-6 and the larger from 5-8.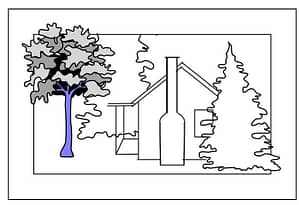 Hook this as a log cabin or stone house. Regular siding or even brick is possible also.
Sizes:
11.5″ x 17.25″
14″ x 21.25″
16.5″ x 25″
This two story home has more landscaping. Plant your favorite flowers in the garden.
Sizes:
13.25″ x 17.75″
16.5″ x 21.5″
19.25″ x 25.5″
All of the elements will be available as loose templates that you can arrange for your own customized pattern.
There will be a design fee of $15 per person which covers ONE pattern, either predesigned or designed yourself using my templates. After this class these designs will be available as patterns that can be ordered off my website.
Backing (linen and monk's cloth) will be available for sale from the guild. I will be bringing rug warp for anyone interested in that backing.
I will be teaching you how to draw your own pattern so be sure to bring a regular pencil and Sharpie marker.
Since time is short, please call me if you have any questions.
419-287-3884 between 9am and 7pm eastern.
I will be on the road as early as Friday. I will be visiting family on my way to North Carolina.