Subway art in NYC is similar to rughooking in that many points of color add up to an image. I was in NYC in early June for a WordPress Wordcamp. Even though I was there to learn more about the software that runs my website, I never stop looking for patterns and designs. New York is a very rich hunting ground.
Marbles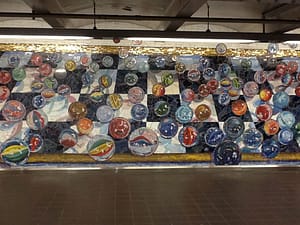 I stopped dead in my tracks when I saw this. I know it aggravates the natives and I often get bumped, but WOW, look at this. I snapped a photo and had to get closer. Luckily it was early Saturday morning so the foot traffic was light.
Notice the shockingly bright light color used for the reflections. No smooth progression from light to dark. The more abrupt the difference, the shinier or wetter the object looks. Use this method to get animal noses wet. Use a bright highlight.
As I walked further down the tunnel more tile people appeared. I was drawn to their faces. Where are the darks and lights? what shape are those areas? A perfect blue and purple plaid would make a good outlining wool.
Notice some of the standard tips I teach when faces are being hooked. The upper lip is the darkest. The lower lip is light but will have a shadow underneath if the lip protrudes.


Notice where the light areas show on this face, with the lightest at the tip of the nose.


This mouth is shaped in such a way I want to go back and verify that it is indeed flat. I don't remember any 3 dimensional areas.


Her teeth are not white but we have no trouble recognizing the teeth.


Getting ready to play

This one was one of my favorites. I like how you can see the contours on the faces. Notice how simply the ear was rendered.

Has this inspired you to create something?
I think I'd like to try hooking my boxer, Jack in one of his quizzical poses. He has a fawn coat, but I can imagine purples, orange, red and blues. Maybe even divided with mosaic lines.