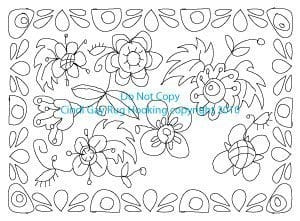 Here's the current status of the new floral design. I finally found my black design book and I am busily putting together ideas. I always start rough and refine over and over.
The good: I like the busyness of rug and the very small areas of background. I know busy is not for everyone, but I get bored easily and the less background the better. Some of the flowers are in their final design, others have to be refined.
The bad: I need to resize several of the flowers and work on the overall design including color placement. I always design with the final product in mind. A good line drawing does not always make a good rug. You need places to put color that will balance. I'll show you how I work through this in future posts.