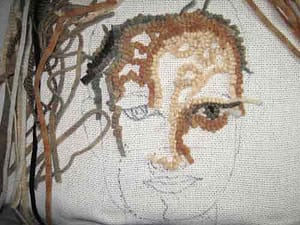 When I begin a new project, I try to use all the colors right away. Here I have a bit of the value I intend to use for hair on the left. This is actually a piece of dark green wool. It is there to help me see the value that I will use later.
I hooked the face values on the forehead first and then I hooked the eye just before I took the picture. I needed a bit of a warm up before I hooked the most important part, in this case, the eye.
To hook the eye I follow these steps:
Hook the upper lash line with a dark wool. I used a dark brown herringbone.
Hook the iris. This is rarely a full circle. The top part is usually cut off by the upper lash line.
Hook the lower lid using a face color. This can be light, medium or dark, depending on how you shade the face.
Fill the pupil with a dark.
Fill the whites of the eye with white. I used a white herringbone texture that is far from white.
Add the highlight.
---
Want to learn how to hook faces?
I am creating an online course that goes into a lot more detail. Watch me hook every stage of a face. This will be open for enrollment in Spring 2022.
---
Read all the posts about hooking Southern Woman
---