I love seeing student's completed rugs! Sherry asked me to design a pattern with a cabin, stream and lots of pine trees. If I remember right, she had a particular spot in mind so we also had to work within a particular size.  Sherry took my class a few years ago in Ligonier, PA and she brought the rug to Sauder Village to show it to me in person.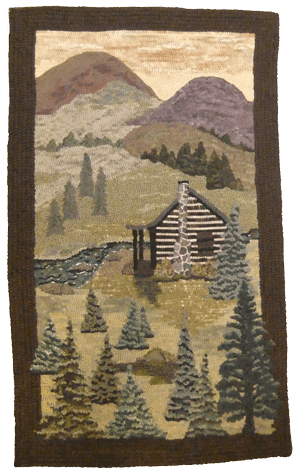 I love the unusual choice of color for the sky. Notice that it is still lighter at the horizon which helps with the realism.  The method Sherry used to hook the pine trees is described in my book, Pine Trees, Grass and Sky. The trees in the foreground have more detail and more variance in color than those in the background.
Can't you just imagine sipping your coffee on the porch in the morning and catching lunch in the stream?  Great job, Sherry.