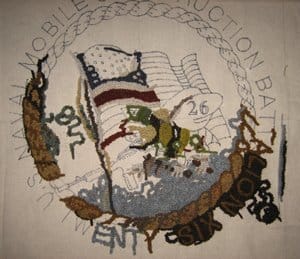 I changed the yellow on the bee to a brighter and darker color.  You can still see my first choice on the head of the bee.  The two stripes on the body are the new color.  Not sure if I will change the line on the flag.  I'll get background around it before I change it.  Because the rope on the rug is not a focal point, it might be better to have something lighter that will blend slightly into the background.  It makes no sense to change it now.
I started some of the lettering.  I used the gold from my initial choice on the rope because I had it sitting around.  Lettering is always crisper and fresher if you hook it, hook the background around it and then rehook the letters.  Because I will be rehooking it anyways, it really does not matter what color I use.  I typically test out several colors during this process.  Hooking several letters in the possible colors will make it a snap to make the final decision.  Use any colors that come to mind.  Sometimes the least expected choice is the right one.  If you don't try them all, you will never find the best one.
I'm still not sure on the rope, but I'll keep trying combinations until I find something that I am happy with.  As I get more done, the combination I have may be just fine.  This is where the you have to "earn the right to rip it out."  Only when I run out of rope to experiment on will I rip out what I already have hooked.  By then, I will have more of the background hooked so the rope will look different.