I am preparing for knee surgery on Friday and since I cannot hook on the room-sized rug downstairs, I decided to start a smaller rug. My husband has hinted for years about a Seabee rug with his battalion's logo. He had a digital copy of it and I printed it out. You can view the enlargement instructions for Windows XP in the rug eSchool. On my mac, I insert the image as a picture into Excel and then in properties I can adjust the size. You can also use this method in Windows.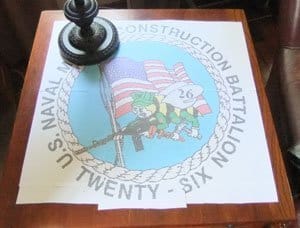 I guessed at the size but after putting the pattern on the end table it looked too small. My husband is not gentle on furniture and a mat on the end table will hide the scratches and prevent any new damage. I decided to print it again 2″ larger.

Now that one looked too large so I split the difference. . .

Now it is just right.  The rug fills the space but I still have room for the whipped edge and a row around the lettering.   I use this same sizing method if I am hooking a rug for a particular spot. Laying the pattern on the floor is the easiest way to judge if the size is right. It often takes several printings until I get it right.  I also analyze the pattern to be sure it is hookable. This one has a lot a detail. Dave will want the gun to look like a gun, the hammer to look like a hammer, etc. I will have to use some smaller cuts.
I pulled wools that I think will work. Since I will be stationary for a while, I'll have to live with what I pulled (at least for a few days), but I've used most of these wools before so I am pretty sure they will work.

The ones on the left will be the major elements.  The dark around the circle to make the rug square, the 2 golds for the rope and B11, one of my newest favorites, as the background.  The logo is actually a bright turquoise blue, but I don't think I could live with that.  This plaid is a good compromise.  In the center, the red, white and blue for the flag and above that the greens for the bee limbs, bright yellow for the body and a different white for the wings.  I will probably use the outer background wool for the black in the bee.  That wool is an old brown black that I have had in my stash for years.  The scraps on the right will be used for the various tools.