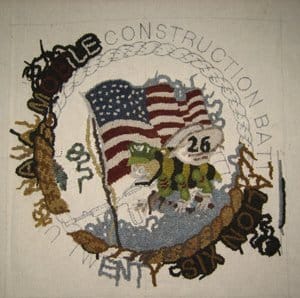 I needed to simply hook yesterday so I finished the flag.  I am happy with those colors. 
I also worked on the lettering.  As I explained before I always hook different sections of letters with different wools.  This gives me an idea of how each color will compliment the rug.  I also think I get bored, so by using different colors for the first pass, I get to play.  Lettering is always crisper if you hook it first, hook the background and then rehook the letters.  By the time I am ready to rehook, I'll know exactly what color(s) to use.
The bee's green legs are really blending with the yellow on the body.  It has to do more with value than anything else.  I may need to lighten the yellow.  I checked the shelves today and found one that will work, but I am going to try it first for the rope.  I really need to finish the bee wing, the flag behind the bee's behind and the background under the bee.  When you make decisions to rip out and change out wools too soon you often waste time.  Get it completely hooked.  That is the only way to know for sure.
One possible fix would be to leave the outline around the yellow spaces and change just the fill with a lighter yellow.  In many spots this will be just one row.  It will keep the richness of the current yellow but give a bit of lightness that may help to show up the bee's arms.
I need to find something for the gun this afternoon.