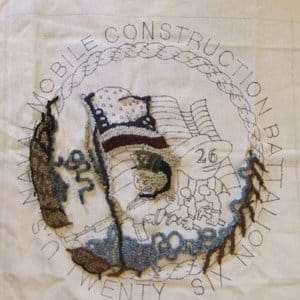 I hooked a bit of each color so I could make adjustments as soon as possible.  This method is not new for me, this is how I hook every new rug.  The exception is my room-sized rug but I had already figured out the colors first by hooking stair risers and footstools.
The blue plaid is not working – it is too dark.  See the area next to the rope on the left.  Luckily, I found an overdyed check that is the right value.  This is hooked across the bottom.  That'll do.
I've tried a few different things with the rope border.  I tried outlining in the dark brown that I am using for the outer background.  If this had worked I would have had to figure out something else for the background in this area.  Still not sure if I have the right combination, but it works for now.  The best part so far is at the lower left next to the new background color.  I don't have enough hooked to make a decision now.  I'll have to get more of each background hooked first.
The yellow in the bee needs to be brighter.  I'm also going to grab a few other options for the wings.  I don't think there will be enough difference when compared to the white stripe in the flag.  I am not hooking the black outline that allows the graphic to work, so I have to adjust the color.
The flag is fine but I will need either a lighter or darker green for the second value for the hat.
Notice how I've begun hooking the background.  I hook small curvy lines that remind me of puzzle pieces to make the loops disappear.  By hooking some of the background now, I will have less to hook later.