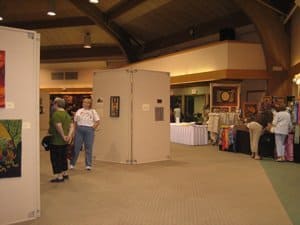 It was another wonderful week at the Sauder Village Rug Hooking Workshop. I spent the week with Diane Phillips. I had taken her class before and I looked forward to the week. Some people in the class hooked human faces, others hooked animals.
---
Sauder Village always hangs a beautiful exhibit and this year was no exception.  It was a real treat to see the Celebrations rugs on exhibit even before I received the magazine.
One special surprise was that Conquest of Queen Anne hooked by Kristie Roberts won a Celebrations honorable mention.  What a thrill to see one of my designs on the Celebrations board.  Great job Kristi!
---
Diane hooked a face as a demonstration right before our eyes.
---
Over the past few years, I have been concentrating on certain areas of my hooking. Several years ago I took a class with Karen Kahle where I learned to loosen up with straight lines. The result was on of my favorite rugs, Antique Rose Runner. By the time I finished the rug, I was making the rug even more crooked than the pattern.
When I last took a class with Diane, I hooked a face using non-flesh tone colors, The General.
After seeing Diane's crooked edge pieces and hearing how they developed organically without a pre-conceived plan, I think I have a new direction to explore.