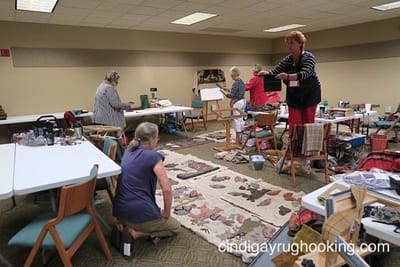 I had a great time last week at one of my favorite places, Sauder Village Rug Hooking Camp. My teacher for the week was Jayne Hester. I have taught with Jayne at rug camps before but this was the first time I got to spend all week with her as a student. I can now walk a bit closer to the primitive drab side.
My project was a stool cover for an IKEA stool called Nils. In the store I was able to buy it without a cover and the price was $10 cheaper. Since I was making the cover, I was thrilled that I could get the stool alone. **UPDATE: I found the "super secret" link to buy the stool without the cover. Spend the $10 you save on the shipping!
Developing the rug hooking pattern
I started with this artwork from my grandson. He drew it about 8 years ago when Jackson was a puppy. I thought it would be perfect for the stool especially since I needed an animal pattern for Jayne's class.
I worked up the footstool pattern (more info on that in a later post), lived with it for a few days, made adjustments and then transferred it to my prefered backing, rug warp using red dot.
Now I just needed a bunch of neutrals. I tucked in a few pieces of color. Luckily, Jayne did not restrict us to just neutrals and the class used a wide spectrum of colors, some quite vibrant.

Rug Hooking Progress
Jayne taught the first day the same way I do. She invited everyone to gather around while she worked through the rugs. I did not get much hooked because I wanted to see and hear what she said about everyone's rugs.

On Wednesday I had a book signing for my books. I did not spend much time in class so here is the progress from Day 3. I tried a geometric pattern (see the final image) and flowers and chose the flowers. I winged it and sketched them lightly as I worked my way across the edge.

I finally know where the rug is going. I usually need about 25% of the rug hooked until I find my stride. Jayne suggested the lines in the background. After I had a piece of the border hooked, I was brain storming on how to meld the straight lines into the border. Jayne suggested a ray. I drew it on the pattern and it worked. Jack looks like Super Dog.

I'm skimming over the footstool pattern development for now. I'll write more detail later. I want to be sure everything works before I describe what I did.
Did you attend Sauder Village? Leave your comments below