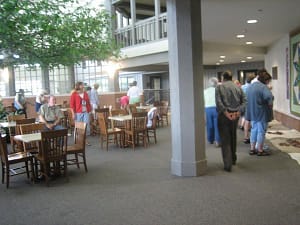 If you are planning on exhibiting one or more of your rugs at the Sauder Village Rug Exhibit in two weeks, you need to pre-register them. The deadline is Wednesday August 1 at noon (I am assuming eastern time).
Tip: If you are registering more than one rug, just hit the back arrow on your browser. You'll see the screen you just filled in. Just change what you need to (rug name, dimensions and special text), your name, address, etc. can stay the same.
In the past if you displayed a rug you got into the exhibit for free. If you are attending the workshop but are staying for extra days, you will want that free ticket. You get into the exhibit for free only on the days you are taking a class.
Look me up! I'll be in Barb Carroll's class. It is up to the teacher whether or not to allow visitors, but I am usually there after class for most of the evenings except Friday. I'll be going home early to enjoy the Pemberville Free Fair. My son is coming home from NYC and I don't want to miss his entire visit.
See you soon, Bob. I know you read this…