What a great week so far at Sauder Village! My teacher this week is Bea Brock and I am hooking one of her patterns, Creekside Blossoms.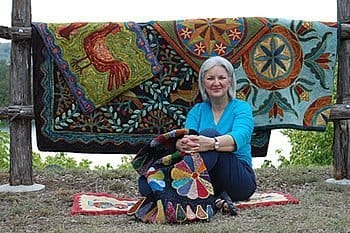 I decided I wanted to use very bright colors. I had picked up a few treasures from Gail Dufresne in June at the Manistee Camp and I wanted to use them right away.
Sauder Village has four teachers this year, Bea Brock, Gene Shepherd, Jane Halliwell Green, and Helen Jeffrey.  I will be teaching next year with Susan Quicksall, Jeanne Field, and Jen Lavoie.  This is the first time I will be teaching at Sauder Village, but I have attended as a student for the last 11 years.  I will post pictures of the show in my next post.  It is unbelievable.