Get More One on One Time with a Teacher
Tired of being one of 12 or even 15 in a class? It's no fun for the teacher either. As teachers we want to help every student and feel unsuccessful when just one person goes home without all their questions answered. The problem is that there is only so much time available and it must be spread around.
Break away from the crowds and gather three to seven of your friends (class size 4 minimum, 8 maximum*). Schedule three days in my studio where we will color plan your rugs together. You will be involved every step of the way. I can really take my time and explain everything.
My goal is to teach you how to color plan so you are more confident for your next project and to arm you with tips that will make any project easier.
How to get started
Choose some dates that work for your group.
Call the hotel and get rates for those dates. The hotel rates can change depending on what is happening at the local university. For instance, Homecoming week or graduation will dramatically raise the rate that the hotel charges. You will be eligible for a 15% corporate discount, but I usually have to "remind" the hotel. The code word is RUG HOOKING.
Contact me to verify that your chosen date(s) are available. Your payment will lock in the dates.
Designate one person to be the lead contact. That person will get a $20 credit thank you at the workshop from me and will be my main contact.
The lead contact will collect the checks from everyone and prepare a list of the students (with addresses, emails and phone numbers) of everyone attending.
The lead contact will email the list to me or include it in the payment envelope.
All last minute communications will be through the lead contact.
While it is not required to choose your pattern in advance, it does help me if I know what each student is working on. That gives me time to gather any helpful reference material or supplies. Each student can email me with a photo of their project and any questions. Be sure to include the dates of your workshop in every email so I can easily identify your group.
---
Can't travel? Take a class from home
What dates are available?
What can I hook?
Can I bring my own wool?
What will you teach?
How much will it cost?
When is payment due?
What if I need to cancel?
Where will we stay?
Where is the workshop?
Class Hours
What else is there to do in the area?
Is the workshop handicapped accessible?
Contact me with questions or to make a reservation.
Allergy Alert
Can't travel? Take a class from home
You can take one of my on-demand rug hooking courses. Watch videos online and some courses include quarterly TuneUPs where you can ask your questions live.
Need even more one on one time with me? Then consider the Virtual Online Workshop [VOW]. The classes are extremely small (up to 5 people) and we meet on a regular basis every couple of weeks. You work on your project (maybe even get it done and start another) and I am there to guide you through it. It is designed to mimic my "in real life" workshops. YOU choose the project, YOU ask the questions that drive the lesson. I teach whatever YOU want to learn. Designing, Finishing, Color Planning, Technique, YOU decide.
And the best part? I usually run at least 2 of these classes. You get to sit in and listen to the other class. Double or even triple the learning for a price much lower than an in-person workshop.
What dates are available?
Use the calendar below to begin your plans. Other dates may be possible, just give me a call to talk about the details. Once you've chosen a date, I will mark it reserved. As soon as the rest of the details are arranged, the workshop is scheduled. If you do not have a group, send me the dates you would prefer. If I can match up enough students looking for a workshop, I will set it up. Make new friends or spend the time with your close knit group, it is up to you!
Please contact me for availability.
What can I hook?
You can hook whatever you want. I have no restrictions. My designs are available on the pattern page, but you can hook whatever design or style you like. I have a wide selection of textures and hand dyes. If time allows and your classmates agree we can even get out the dye pots and dye up what we need. That is the advantage of being in my home.
Can I bring my own wool?
Yes. While I would love to sell you all the wool you need for your rug, I know that you probably have a stash at home. Bring your favorites and we will work them in. In the event you need something you do not have, I have a very wide selection to choose from.
What will you teach?
I am happy to teach whatever you want to learn. The group could focus on landscapes or some other narrow topic or everyone in the group can hook something completely different. My teaching style is to listen to what questions you are asking and to watch what you are doing. When I think of something that will help, I give an on-the-spot lesson. Unlike a workshop where you have to gather everyone around in order to see something, you will be right there listening to all the instruction given to everyone in the group.
In this type of setting I can really tailor everything I do to the few people who are in the class. In a larger group I have to be sure to spend the bulk of my time on topics that are of interest to the majority of the class.
How much will it cost?
| | | | | | |
| --- | --- | --- | --- | --- | --- |
| # of people | 4 | 5 | 6 | 7 | 8* |
| Price Per Person | | | | | |
*More than eight is possible but it will begin to get crowded.
Not covered in the fee above is your hotel, travel and dinner. Your materials for class are also not covered. Fee does include lunch and beverages during the three days. My recommended hotel in Bowling Green includes breakfast in your nightly fee. Wednesday night the hotel even offers a free diner. Contact the hotel to be sure they are still doing this.
Payment is due at least 90 days before the class to secure your reservation. If paid in full 6 months before class, I will extend a 10% discount for all wool purchased during the week.
Private one day classes are available for $450 per day. Call me for multiple day discounts or for rates for classes with less than 4 people.
When is payment due?
Payment is due at the time of reservation. It is usually simpler if someone in your group collects the payments and then mails them together. Your reservation is not final until payment is received. A $20 gift certificate will be given to the organizer as a thank you for the extra time and effort involved. This certificate can be used at the workshop.
What if I need to cancel?
There are no refunds of the pre-paid instruction fee. If a cancellation is necessary on my end, all fees will be returned if another date cannot be scheduled. If someone in your group cannot attend, but you find a replacement, you can substitute a new person. All financial arrangements in this case will be between the members of your group. If you need to add a member to your group they will be added at the per student price determined at the time of the initial registration.
Where will we stay?
You will stay in a hotel of your choice in either Bowling Green or Perrysburg, OH. My recommendation is at the Bowling Green exit off I-75, just minutes from the Ohio turnpike. I have worked out a deal with the Holiday Inn Express in Bowling Green to get you a slightly cheaper price. Just mention my name when you register. Lunch will be provided by Front Street Cafe and is included in the workshop pricing. You will be choosing from their menu of salads, burgers and sandwiches. Dinner is on your own.
From the hotel in Bowling Green it is about a 15 minute drive to my house.
Where is the workshop?
The workshop will be taught in my home. We moved in December of 2014. The new studio is right inside the front door on the first floor! There are 2-3 4″ steps to get into the house.
I am located south of Toledo, OH, near the I-75 exit for Route 6. The address is 6988 Linwood Rd., Pemberville, OH 43450. Click on the link in the address or on the map below to go to Google Maps and get directions and an estimate of how long it will take to travel from your area.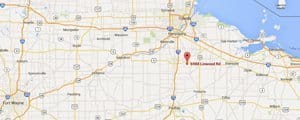 Class hours
Class hours are from 9am to 3pm. At around 11:30 we will go as a group to the diner in Pemberville or send a representative to pick up our order. Janelle's has a good selection of sandwiches, salads and soups — and pies!.
What else is there to do in the area?
Pemberville offers a unique experience at Beeker's General Store. Yes, that is the general store shown on my rug, "The Village of Pemberville." It is a favorite destination with my grandchildren where they can buy candy by the piece from glass jars. Beeker's offers up a unique and wonderful assortment of gift and home decor items. I especially like the affordable antique reproductions. Be sure to notice the antique merchandise still on the shelves but no longer for sale. Pemberville also has an antique store, Riverbank Antiques.
Bowling Green is a college town and offers many pubs and restaurants.
Toledo offers a top notch Art Museum with FREE admission. The Toledo Zoo is one of the
top ranked zoos in the country. I especially like the Hippoquarium. We had 2 mama polar bears give birth to cubs in November of 2006. One had a set of twins!
Perrysburg, OH offers some small town shopping as well as a Bass Pro shop.
Is the workshop handicapped accessible?
Almost. We haven't put in a ramp yet, but only because we haven't needed one. Please call me to talk about your needs. I will do everything I can to accommodate you.
I can answer all your questions, just give me a call.
419-287-3884, between 9am and 7pm, eastern.
Please don't hesitate to call with any additional questions. My schedule varies quite a bit. If you have a time frame in mind, let me know. I can tell you what dates work.
Allergy Alert!
I have two cats that have free roam of the house, including the studio. One is outside during the day, but the younger one is an inside cat that is upstairs most of the time. We adopted a puppy September 2008. He is a boxer mix and has very short hair. There is no carpeting in the house. The hard flooring helps my allergies, but I cannot give up the furry friends.