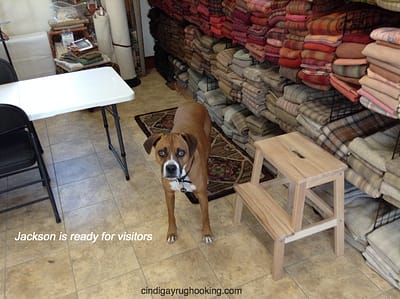 For rug hooking classes, call 419-287-3884 between 9am and 7pm, eastern to check availability.
Studio Rug Hooking Classes
Rug hooking classes are held on Friday at my home in Pemberville, OH. Returning students are automatically enrolled in each new session. New students are added only as space permits. All equipment and supplies are available for purchase by students.
I teach these classes as an open studio class, each student chooses their own project and the topics covered in each class are determined by the needs of the students. You will learn as much from each other as from me. Creativity and self expression are encouraged.
Class Location
Classes are held in my rug hooking studio at 6988 Linwood Rd., Pemberville, Oh.
Class times:
Friday Morning 10:00-12:30
Friday Afternoon not available
Please contact me in advance to confirm availability.
Class rates:
$12.00/class, total of $72.00 for all six classes payable at the first class
$25.00 to sit in on a single class, please call in advance for availability
Class fees are paid in full for each session at the first class, total $72.00. Students can make up classes by attending one of the other class times, but no refunds will be given for missed classes. For instance, if you are a member of the morning class you can attend all day to make up for a missed morning class.  A special makeup lesson is often scheduled when several students miss class. Students can attend both morning and afternoon for $144.00 for all six weeks. I join several other students in Pemberville at Janelle's Diner for lunch. This option is often attractive to students who have a long drive to class.
New Students
You don't have to wait for the beginning of a new session. New students joining mid-session will pay only for the remaining classes in the session at the first class attended and should bring a 14″ quilting hoop or hooking frame, scissors, pencil and notepad.
Bad Weather
I will cancel rug hooking classes during bad weather. Many of my students are on the road for an hour or more to get to class. Class will be canceled when the Toledo Public OR Eastwood school districts are closed. Call before leaving for class if you have any question about class being canceled. Additional classes will be added to the end of the session to compensate for the canceled classes.
Class Schedule
I added the calendar on the workshop page, please check there for the actual dates. It shows all the dates I will be teaching. I update this calendar regularly so if I develop a conflict any rescheduled dates are shown there. Each session's classes are labeled 1-6.
Fall – 6 weeks usually starting in Sept/Oct, finishing in Nov
Winter – 6 weeks usually starting last Friday in Jan, finishing March
Spring – 6 weeks usually starting in March, finishing in May or June
Summer* new session – 6 weeks usually starting in June, finishing in August with 1-2 classes per month