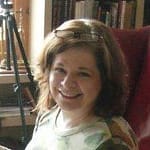 For many years I have been having small workshops at my home in Pemberville, OH. These classes are special because I have time to get to know each of the students. You are not lost in a group of 12 or 15 or even 19. It is a better experience for me and for you.
For full details visit the Rug Hooking Workshop page.
A workshop in this format is more affordable because the instructional fee is lower than many rug camps and you only need a hotel room and meals for a few days rather than almost a week. You are guaranteed to get into my class and you will love the topics taught because YOU determine what you want to learn. We can design patterns, get out the dye pots or color plan multiple rugs. Everyone in your group can be doing something different. After teaching classes of 15 or more students since 2001, these smaller classes of just 2-8 students are a joy to teach.
Use the buttons below to navigate the calendar. If you are booking further in the future, please call me for available dates. Sometimes I just need a reminder to sit down and schedule more dates. Look for the green "Available" bars.
When a date has been requested, it will turn orange. It will become red when the date is no longer available. Brown bars are workshops that are usually out of town for me and I do not have a say in the enrollment. Contact the director of the camp. The weekly Friday classes are in Pemberville, OH.
I am retiring from the rug hooking camp circuit
After 2014, I will not be teaching as regularly on the road. The process of bringing the wool down from upstairs, loading it in the car, driving for a day or two, unpacking it and then repeating has worn me out. I'm not ready to give up teaching. You'll just have to come to me for in person instruction.
Can't travel? Use the internet to learn rug hooking
I have another full website at howtorughook.com that houses my online rug hooking courses, membership and access to my free live events.
Rug Hooking Events coming up next …