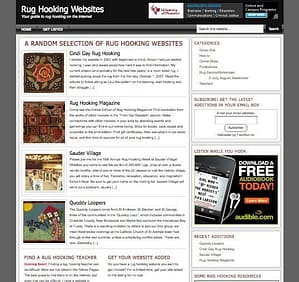 A while back I asked you which rug hooking websites you visit. Thank you to everyone who responded. I quickly realized that listing them in the format that I had planned was not going to work. It would be a huge list, that would become more and more impossible to navigate as it grew. To keep the programming simple, it was easier for me to develop a new site, www.rughookingwebsites.com
Now you can click on a category, such as rug camps, and see all the websites that are about rug camps. The categories are a bit rough. They should round themselves out as I add more sites, but if you have a suggestion, I'm all ears.
I'm still adding websites, so keep them coming, especially if you are the website owner. I don't have the submission forms set up yet, but send me a few photos, some text along with your website address and I'll get them posted as soon as I can. You can subscribe to this new website just as you do to this one. Never miss a new website addition. You'll get an email each time a new one is posted. Be sure to click on the link in the email you get from Feedburner.
Coming Soon! I'm developing a companion website for rug hooking teachers. Find your teacher by location, cut size, style of hooking or services offered. The development of this site is going a little bit slower as I have to wait for the first few teachers to submit their information so I can test the entry. This should help you make a decision about which teacher to take at the next rug camp you are considering.