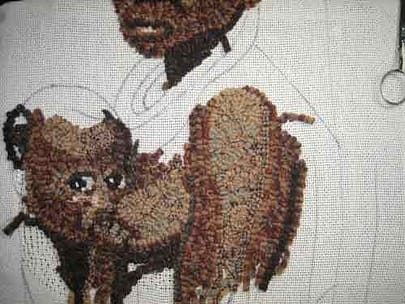 Notice the lack of rows in the larger portion of the arm. I used my "jig saw puzzle" method. I teach this method for backgrounds because it helps to make the background to fade into the …. background. Our eyes and brains are designed to pick up patterns. When you hook in rows, you can see them.
Here I am beginning to fill in the lower arm. Notice how I am breaking up the space so that you cannot see the rows. I also hooked her tummy. Not sure at this point if I have this right, but I will continue hooking before I make any judgements.
---
Want to learn how to hook faces?
I am creating an online course that goes into a lot more detail. Watch me hook every stage of a face. This will be open for enrollment in Spring 2022.