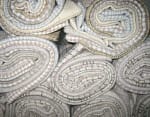 I always resorted to dark backgrounds for primitive rugs because light backgrounds lacked character or were impossible to find. Since I discovered this process, I've fallen in love with light backgrounds.
I treat "BBB" like a sourdough starter. When I am ready to hook another rug with this background, I simply add in whatever I had left over from the last rug. Nothing goes to waste.
Try the process yourself with your own wool using these instructions on how to marry wool.

I tried the cooking of the background colors I purchased from you. At first I was very skeptical. It just didn't seem to be doing anything. Now that the wool has been washed and dried I am really impressed. It worked well. I did a few blues that I had here and was very happy with that result also. I will use this technique often! Thanks so much!

Phyllis Tompkins