The perfect rug hooking pattern is the one YOU want to hook.  If you cannot find what you are looking for, please contact me.  Your suggestion could become a pattern. All rug hooking patterns are shown below but these sub-categories may help you to find what you are looking for: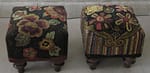 The instructions for making the footstool base that fits these patterns can be found in a series of posts.
Footstool assembly instructions
Stair risers are 6″ x30″ rugs that are attached to the up and down part of your staircase. You can see them clearly and by attaching them to the stair riser rather than the tread decreased the possible trip hazard.