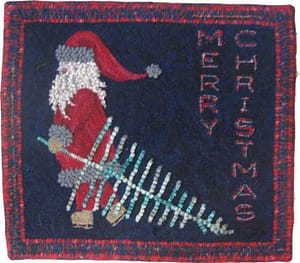 I designed this hooked rug for an article in Rug Hooking Magazine, Nov/Dec 2003. The challenge was to create a Christmas rug using all recycled wool and no commercial dyes. Sounded simple. It was a more difficult challenge than I thought it would be, but designing rug hooking patterns always takes more effort than I expect.
One of my studio students, Pat Mensing, collects feather trees. She told me a story about the trees that influenced the design and she wanted Santa skating. I designed the rug hooking pattern with those elements in mind.
I did get to use up some plaid recycled wool that everyone probably has in their stash. Some wool I used as is, others I modified by marrying or using penny dyeing. I describe all these methods in my book, Dyeing without Dye.
Have you hooked this pattern or one of my other rug hooking patterns?
I would love to see a photo. Please let me know if it is OK to share it on this website, if not I will keep it private. Be sure to include your full name and home town. If you have any questions or comments, contact me using the Contact Me link in the menu above.
I would love to get feedback on how much wool it took YOU to hook one of my patterns. I plan to have wool requirements for all patterns. To help me set priorities, please ask about wool requirements for any pattern you cannot find listed.
The amount of wool you will need for this rug hooking pattern:
Please note that these quantities may not be fully tested. If you hooked this rug and know the quantities you used, please let me know how your quantities compare, even if they match.
*One yard of wool = 16 strips, 1/4 yard = 4 strips.
See How to Rip New Wool (off the bolt) for Dyeing for instruction on how to segment your wool.
Santa's Coat & Hat: 1, some darker strips for arm, leg definition
Trim on coat: 1
Hair: 1 (I used a piece of natural and grey and hooked them together)
Face: 1
Tree: 1
Skates: 1
Letters: 1
Background: 8 or 1/2 yard, possibly a bit more
Border: 7
See more hooked examples of the rug hooking pattern, The Day After.