See all the patterns on the new Rug Hooking Patterns page.
Finally. . . I have all the rug hooking patterns posted and available to you online. All patterns are available on Monk's Cloth, Rug Warp and Linen. If you've spent any time in one of my classes you know that I prefer Rug Warp. These patterns are still drawn by Kris Miller and guaranteed to be on the straight of grain.
To find the patterns page just click on Supplies, then Patterns or one of the sub-categories, Footstools, Stair Risers, Floral, Everything Else. If you don't see something you would like, please contact me. I can custom design a pattern to your wishes. Fair warning: you may have to wait for it. Creativity does not always arrive when I want it to.
Most of these rug hooking patterns are my own designs. If not, I've labeled the rug hooking pattern with the designer's name.
I guarantee that all my rug hooking patterns are on the straight of grain. I have entrusted this job to Kris Miller of Spruce Ridge Studios. If you are ordering wool or other items, you will receive the rug hooking patterns separately, but you will only be charged for shipping once.
Click on one of the categories below:
Make your own rug hooked footstool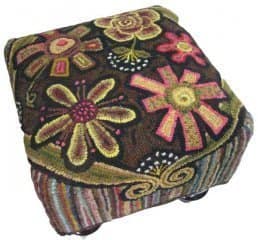 I have several rug hooking footstool patterns available. I am posting complete instructions (videos are still being edited) on how to build your own using simple 2x4s, plywood and foam. There is a complete cutting diagram for the wood and the foam. I also have instructions on how to finish your hooking so you can complete your rug hooked footstool. Here are the list of instructions available so far:
Missing something? Please let me know so I can make these instructions as complete as possible.
Click here for the order page for Footstools
Click here for the order page for Stair Risers