Link for the next Live! Lesson or Hook-in
Members only Live Events (every day) go to the Dashboard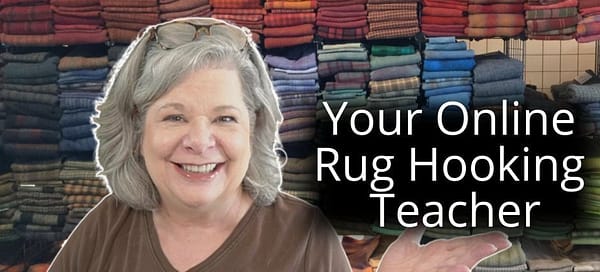 Rug hooking can be very confusing when you first start out. What equipment do I need? Or more like what do you NOT need! How do I do this, or that? You need someone who is always there that you can ask. I can help.
Join me for a Live! Lesson, online hook-in or ask a question during one of the Office Hours. Unravel the mysteries of rug hooking in one of my online courses — and make friends in the process.
Explore rug hooking…
How to join in on the rug hooking fun…
Ready to join an online meeting? Click the Online Live Events icon above. Add the calendar to YOUR Google calendar and you will never miss one — even if I add something new with short notice.
Join the email list below. I send out routine emails on Tuesday at noon. You may get a random email if I schedule a live class for a course I am developing.
A sneak peek at future events…
Learn more about subscribing to this calendar
Join member's only events by joining The Rug Hooking Journey.
Most Recent Rug Hooking Lessons
Most Recent Products
For even more online instruction, be sure to check out howtorughook.com, my online instruction center.

Check out all the rug hooking courses I offer.
How to Rug Hook… The simple steps
I've been enjoying listening to your webinars on The Journey. I can't believe how much I didn't know after 35 years of Rug hooking. Thank you so much.

-P. McCartt
Time needed: 15 minutes
Rug hooking is not difficult. It is very easy to learn, less than 1 minute to pull your first loop, then years to learn the finer points of rug hooking
After stretching the backing on a hoop or frame, push the hook through the backing.

Put the hook in where it makes sense — do NOT count threads!

Scoop up the wool from underneath.

Move the hook, not the wool. Wrapping the wool onto the hook will cause twists.

Pull the wool to the surface and adjust the height of the loop.

Pull it up as high as it is wide.

Repeat a million times. You are now a rug hooker!

Concentrate on pulling the loops up high enough and spreading them apart. Avoid overcrowding.
Make a rug hooked footstool – 2 ways
Build the stool yourself

This method creates a classic low footstool but it is time consuming and expensive.
Cover a purchased IKEA Stool
Less expensive and a great way to prepare for the classic stool. Be sure to buy your stool BEFORE you join the course.
Follow along with other projects
Room Sized Rug: Chalfonte Fantasy
Named for the hotel in Cape May, New Jersey. I spent a lot of time on the Victorian porch. The porch support details inspired the main scroll. FYI: This project is still in progress. I've been rug hooking on it since Oct 2007.
Southern Woman
This challenge was to hook a face using just three textured wools. I taught this class at Southern Teachers' Workshop in 2009 and later in the Dayton area. If you have a finished project, I'd love to post it on this series!!
Woman with Baby
After I hooked Southern Woman, I wanted to see which textures would work with darker skin.
The background is just two spot dyes. They are the same color, just two different values.