There are many ways to hook a background. Here is the way I chose to hook the background on Woman with Baby.
I wanted the background to remind the viewer of foilage. Image that the woman is sitting in front of a forest. The round circles are not leaf shaped, but still give the impression of foilage. I used the circles to avoid hooking the background with "snakes," those long rows that are often seen in background hooking.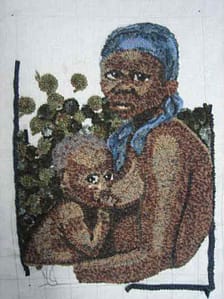 The plan is to hook most of the dark at the bottom and blend the values to light at the top. I am using the three different spot dyes I showed you in an earlier post. Notice that I am not hooking the background solid but instead I am jumping around. This will help me to set up where the value changes happen and to trick me into thinking the background is getting hooked up faster than it really is. It is also an advantage in the event I run short on wool. I can easily bring in a new spot dye to fill in the gaps.
I hooked the background solid at the bottom mainly so I could see if it was working.


---
Want to learn how to hook faces?
I am creating an online course that goes into a lot more detail. Watch me hook every stage of a face. This will be open for enrollment in Spring 2022.