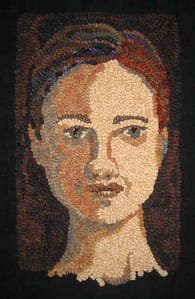 This portrait of my imaginary woman is now complete. Notice the lower part of her neck. I think the uneven edge actually gives the neck more dimension. I did do a bit of tweaking once all the hooking was done. About the time I added the sashing, I decided to soften her forehead some more and added hair. Be sure to add the shadow that the hair casts on the skin. Her right eyebrow was adjusted also. I added more light in this area. I added a dark shadow under this eye also. The little bit of dark under the lower lip helps to make the lips stand out. I darkened the nostrils. These are never circles. I added a dark line using the same wool that I used to separate the lips.
Notice how her hair and the background tend to blend together in some areas. When I studied watercolor painting, getting lost edges was an advanced technique. In rug hooking, lost edges tend to make most people nervous. When you are hooking in a realistic style, do not fear lost edges. They enhance the work and make it more interesting.
---
Want to learn how to hook faces?
I am creating an online course that goes into a lot more detail. Watch me hook every stage of a face. This will be open for enrollment in Spring 2022.
---
Read all the posts about hooking Southern Woman
---