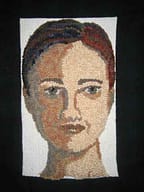 Look at the lower part of her neck. You can see by comparing it with the prior post that I ripped out some of it.
I took about a 5″ wide piece of wool and sewed it on, right sides together, using the same method I use for finishing pillows. 
My plan was to turn the excess wool to the back. I used four pieces of wool. In the future I would use one long piece and sew it on like a quilt binding. When I turned the excess to the back, making the miter on the back was very difficult. I was worried that I would cut off too much.
This type of finish is called a show finish. On this piece about 2″ of flat wool "shows" around the edges. You can adjust this amount by using a wider or narrower piece of wool.
---
Want to learn how to hook faces?
I am creating an online course that goes into a lot more detail. Watch me hook every stage of a face. This will be open for enrollment in Spring 2022.
---
Read all the posts about hooking Southern Woman
---