If you haven't built the footstool yet, get it built and attach the foam BEFORE you cut the edge off your hooking. Test fit your hooking to your stool. There are so many variables that could throw the fit off. If you need to add a row or two, do it now before you cut off the excess. Check how the sides fit and check the length. Pinch and pull it tight. It should fit snug and seem almost too small. We will be adding two rows of hooking at each corner.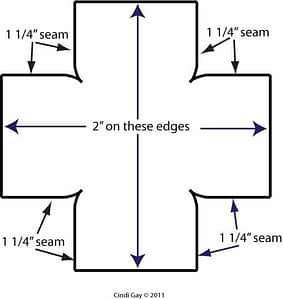 Once you confirm the fit, mark with pencil the cut off line on all edges. I use the same width that I use for rugs, 1 1/4 inch for the side seams. You can measure or use my simple cardboard tool. Use this measurement for the SEAM EDGE only. For the LOWER EDGE use 2″. You'll need more here because you will have to pull and staple the backing to the bottom of the footstool.
Draw a line along the edge.
Review my post on drawing straight lines on your backing.
Zig zag in the area between the hooking and the line you just drew. Cut the backing on the line. Zig zag the edge. I zig zag after I cut because I find it easier to trap all the loose threads. Be patient. This is a deceptively long edge.
The hard part is now done. In the next step we will sew up the side seams.

Make your own rug hooked footstool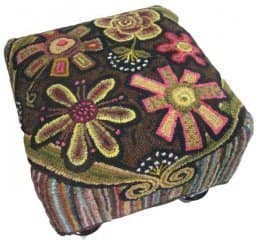 I have several rug hooking footstool patterns available. I am posting complete instructions (videos are still being edited) on how to build your own using simple 2x4s, plywood and foam. There is a complete cutting diagram for the wood and the foam. I also have instructions on how to finish your hooking so you can complete your rug hooked footstool. Here are the list of instructions available so far:
Missing something? Please let me know so I can make these instructions as complete as possible.