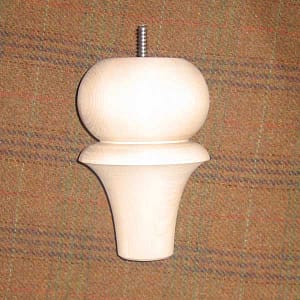 Once you begin hooking on your pattern, order the feet for the footstool so you will have them when your hooking is complete. You can find many sources on the internet. A few are listed below. These feet are 4″ in diameter and 6″ tall which will give you a final footstool height of approximately 16″. They come unfinished and attach by simply screwing them into pre-drilled holes.

I stained mine with Minwax Polyshades. It is a stain and Polyurethane in 1 step. I used several coats. The color I used is Bombay Mahogany Gloss #480, a rich dark color that does not detract from the hooking. I could not find an 8 oz. can this time, which is enough for several stools. The smallest I could find was quart.
You can add a plastic or felt pad on the bottom to protect your floor.
Places to order footstool feet for rug hooked footstool:
Adams Wood Products in Tennessee
I ordered A0558 CONTEMPORARY BUN FEET with Dowel Screw, 6″ height in paint grade from Adams Wood Products. This is the exact same foot that I've used on my previous footstools.
Make your own rug hooked footstool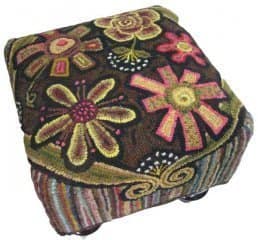 I have several rug hooking footstool patterns available. I am posting complete instructions (videos are still being edited) on how to build your own using simple 2x4s, plywood and foam. There is a complete cutting diagram for the wood and the foam. I also have instructions on how to finish your hooking so you can complete your rug hooked footstool. Here are the list of instructions available so far:
Missing something? Please let me know so I can make these instructions as complete as possible.