You gathered the materials, ordered the feet, stained them and built to box. Now you need to add the foam. I used the green high density foam because I think my older footstools have gone a bit flat. I'm hoping the higher quality foam will hold up better.

Use spray glue to attach the foam to the wooden box. You need just enough to hold it in place. I used a 3M spay glue for foam because I had it on hand. Just read the labels and get the glue that will work for you.
Make your own rug hooked footstool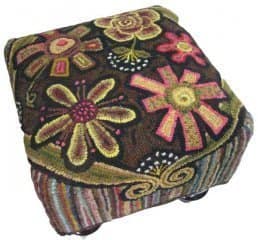 I have several rug hooking footstool patterns available. I am posting complete instructions (videos are still being edited) on how to build your own using simple 2x4s, plywood and foam. There is a complete cutting diagram for the wood and the foam. I also have instructions on how to finish your hooking so you can complete your rug hooked footstool. Here are the list of instructions available so far:
Missing something? Please let me know so I can make these instructions as complete as possible.