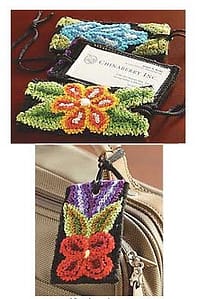 I received the new Isabella catalog today in the mail. It has stuff for tea, the bath and neat jewelry. Not sure how I started getting it, but I always flip through it even though I don't buy much. As I was flipping, I saw some embroidered luggage tags.
What a neat adaptation for the hooked ATC cards! I think I will put a rivet near the top of my next ATC before I hook it and then I can add a ribbon and tie the ATC card on a tote bag or use it as a Christmas ornament. The ideas are endless.  I don't think I could trust my hooked art with the baggage handlers though.
As usual I have no shortage of ideas, just the time to execute them.  I did not want to forget this possibility, so I decided to do a post.  If you don't have a blog to record your ideas, be sure you have a journal.  Get a pretty one that fits in your purse and whenever you see something that inspires you, jot it down or draw an image.  Be sure to date it and note where you saw it.  Years later you will run across it again and it will be just what you need to finish a design.
For me, recording an idea is like finding a handhold on a mountain side.  Once I claim one idea, then several more come to mind.  Just because you don't have the time to do something to completion, you don't have to ignore it.  Take the time to record it.  You never know where it will take you.
If you give this a try, please send me photo!