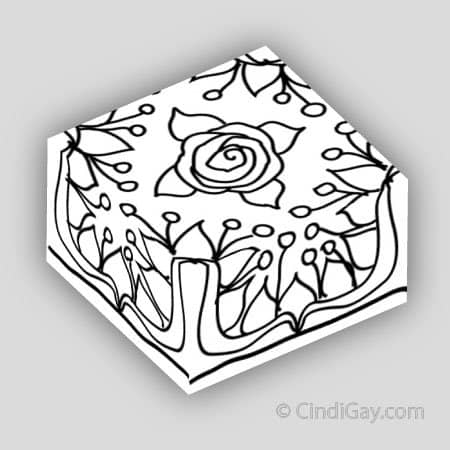 I could not resist using the name Rosenweeds, after all what do you call those leaf-like shapes with the lollipop flowers or berries?
Here's some ideas on how to hook the motifs:
The circles could be flowers, hook them in a variety of colors. Use multiple colors in one flower. Hook all the flowers the same. Hook them all different. Prod the outside edge and hook the center for a 3D flower. Hook very high loops around the outside edge for a different 3D look. Use white and keep them small for a delicate look.
The "leaves" around the border can be all one green for a very simple look. Use a dozen different greens and hook each leaf a different green. Use a dozen greens and use all of them in each leaf for a look with variety but unity. Hook them light at the tip and dark at the base, do the reverse. You could even shade them light to dark going left to right or right to left. Outline with one wool and fill with another. Don't use green at all! Just consider them shapes and use any color you like.
I prefer my scrolls hooked with an outline and fill that are similar, usually different colors so that an iridescence is created. If I can find the right ones, I like to use textures rather than dyed wools. It keeps the scrolls softer. Use a combination like turquoise and green, orange and yellow or more reserved, two browns or a light and dark blue, etc.
Hook the rose in the center using wools that have differences in value. I struggled a bit with this in my room-sized rug. You can read how I resolved it. My favorite combination is to use a textured gold for the outlines, a deep rich and dull red for the shadow areas, just below each petal and then fill with one or two red textures.
There is the usual border that follows the bottom of the footstool. I think it is easier to put it together if you have a border like this. In between the bottom border and the scroll, you can hook hit and miss to beautifully disguise the construction seams or hook it solid with one wool.
Make your own rug hooked footstool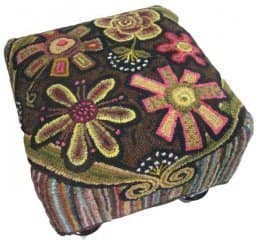 I have several rug hooking footstool patterns available. I am posting complete instructions (videos are still being edited) on how to build your own using simple 2x4s, plywood and foam. There is a complete cutting diagram for the wood and the foam. I also have instructions on how to finish your hooking so you can complete your rug hooked footstool. Here are the list of instructions available so far:
Missing something? Please let me know so I can make these instructions as complete as possible.