Special thanks to Joan Bollaert of Moline, IL:
Is it possible to have a pattern that looks like this (Rose Scroll Square Footstool) without the "scroll" surrounding the flower? I love the way this looks with the simple square look and lighter color wool making a little stripe type ridge around the square.
This footstool has the same floral motif as Rose Scroll Footstool — Square without the scroll. I set the square on point so that the construction of the footstool is easier. If I had aligned (or tried to align) the edges of the square with the edges of the footstool, any error in the pattern, error in hooking, error in seam sewing or error during upholstery (you get the idea) would result in a crooked footstool. With it set on point, it is a much more forgiving experience.
A Square outline is provided so you can hook a similar border like I did on the ATHA rug. I did this using the gold from the rose with the background brown using the beading stitch.
The beading stitch is a special technique where you hold two colors at the same time and alternate pulling the loops from each. The most important tip I can pass along for this is to hold on to the strip that you use to pull the second color and never let go. You can let the other color dangle as you work, but don't let go of the second one. This will help you to keep each color on its own side without them crossing. –a video lesson of this technique is included in Creative Stitches Course which is a part of  The Rug Hooking Journey .
Make your own rug hooked footstool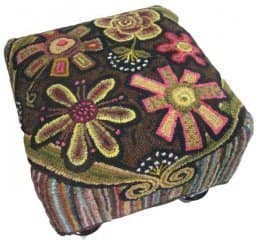 I have several rug hooking footstool patterns available. I am posting complete instructions (videos are still being edited) on how to build your own using simple 2x4s, plywood and foam. There is a complete cutting diagram for the wood and the foam. I also have instructions on how to finish your hooking so you can complete your rug hooked footstool. Here are the list of instructions available so far:
Missing something? Please let me know so I can make these instructions as complete as possible.