Product Description
Pattern only. Finished size of footstool is 16" x 16" x 15" high which includes feet that are 6" high.
Notice the possibility of two different backgrounds. Something tone on tone would be elegant. Build the footstool body using the instructions.
This pattern is designed by Katherine Porter. I offer it here to give you more footstool pattern options.

Make your own rug hooked footstool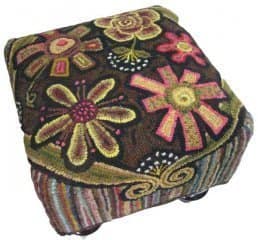 I have several
rug hooking footstool patterns available.
I am posting complete instructions (videos are still being edited) on how to build your own using simple 2x4s, plywood and foam. There is a complete cutting diagram for the wood and the foam. I also have instructions on how to finish your hooking so you can complete your rug hooked footstool. Here are the list of instructions available so far:
Missing something? Please let me know so I can make these instructions as complete as possible.
This pattern is designed by Katherine Porter.
Hooked Examples
Deb Carlson

I signed up for your Ikea Stool Cover Class last winter and I finally completed two of the stools. I had to rip out a couple times with both of them to get the pattern to fit snug. I learned that when using yarn the monks cloth as to be stretched first and then transfer the pattern. If done afterwards, it made the pattern bigger. After a lot of trial and error re-designing the pattern to fit I was finally able to get it right with the fit.
The stools were made with Violet Jane yarn from Amy Oxford and Wild Hare Yarn from Michele Mueller. I like the colors and texture of both. The other stool made from the instructions on line is from my plants I grow in my flower beds. They were all dyed by me using marigolds, black hollyhocks, amaranthus, coreopsis, chokecherries and grapes. Modifiers of iron and copper changed some of the original colors. When you see an intense color in the box stool, I had to use some commercial dyed yarn to make the colors or the shapes stand out a little bit more. And yes, I found out for myself that some colors are fugitive…..I tried to prove what everyone told me wrong and they were still right. The box stool I do not put in a room with a lot of sunlight, but I kept it as a proto type and visual reminder.
I hope to be making more stools now that I have the patterns fitting correctly and know how to put them together.
Enjoy the photos and if you have any suggestions I would love to hear from you.
You can see Deb's other footstool here.
Mary Manning

I color planned this project with Mary Manning at a workshop at the 2017 Manistee Rug Camp. I love the soft colors.