Product Description
Pattern only. Finished size of footstool is 16" x 16" x 15" high which includes feet that are 6" high
Design your own pattern using this scroll as a beginning, then build the footstool body using these instructions.
Make your own rug hooked footstool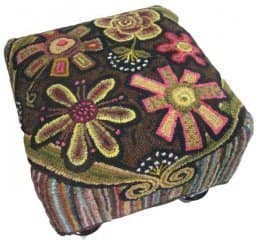 I have several
rug hooking footstool patterns available.
I am posting complete instructions (videos are still being edited) on how to build your own using simple 2x4s, plywood and foam. There is a complete cutting diagram for the wood and the foam. I also have instructions on how to finish your hooking so you can complete your rug hooked footstool. Here are the list of instructions available so far:
Missing something? Please let me know so I can make these instructions as complete as possible.