Product Description
Buy the printed book only without the online Companion Course.
This book is a complete reorganization and I added an online companion course!
A book to guide you through the most difficult parts of a hooked pictorial rug. Includes dye formulas, methods and hooking instruction.
You've hooked your pictorial and now you need to hook the "background" or the pine trees, grass and sky. I really struggled with this part of my rug when I hooked the Village of Pemberville. After many failed attempts I went back to my experience in painting backgrounds. How would I paint a sky or ground? Certainly not with just one shade of paint. When I realized that I needed to blend the wool to make the ground lay down, I was able to create the sense of depth I wanted.
I also thought the pine trees would be no problem. I was more worried about hooking the people in the rug.  That turned out to be the easiest part of the rug! It took me almost three months of dyeing and trying to hook the large center tree. Once I tried one method, I learned what did not work. From there, I developed a method that has been used by hundreds of rug hookers to hook some amazing trees.
Have you used my methods to hook your pictorial? I'd like to see it. Please send me a photo with permission to post it on my website. I'd love to see a full gallery of examples!
I learned a lot working on this rug with your suggestions. I experimented with some new things and overall I'm pretty happy with the outcome. My daughter said the trees were "epic" I just followed your book, you made it seem easy and it really was.
Thank you,
Diane Firman
Now hooking a pine tree is even easier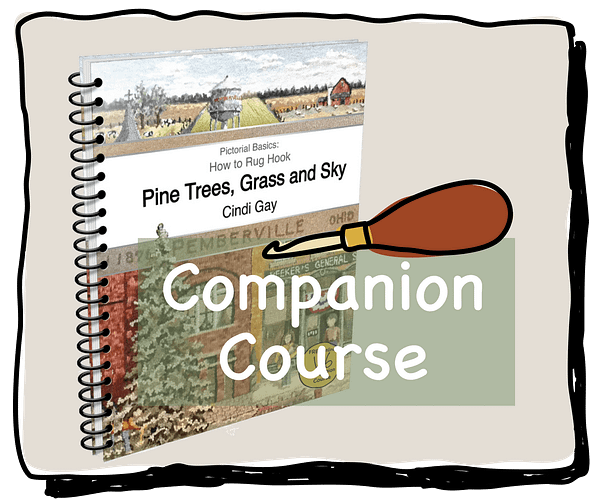 I developed a companion course for this book. The course alone is worth more than the price of the book. It is like getting the book for free. Enrollment is automatic after your confirmed purchase.
Watch for an email with your user id and password if you are new to my Online Rug Hooking Courses site, howtorughook.com If you already have a log in, jump into your Dashboard and find the Companion Course icon near the bottom of the page in the Bonus Courses.