Product Description
This pattern will NOT fit the IKEA Stool.
Finished size of footstool is 16″ x 16″ x 15″ which includes feet that are 6″ high. This is the pattern only for a footstool.
This footstool was named when I was asked what the "stuff" in the border was. They are imaginary foliage, maybe weeds, rose and weeds. Hook the "leaves" in green or use colors! The circles could be lollipop flowers done in lopsided circles or proddy around the border for a flower with 3D petals. The outer border could be hooked solid or hit and miss to better disguise the seams when you put it together.
Make your own rug hooked footstool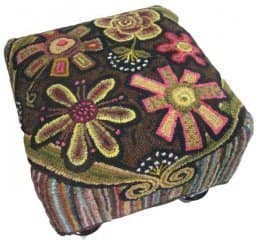 I have several
rug hooking footstool patterns available.
I am posting complete instructions (videos are still being edited) on how to build your own using simple 2x4s, plywood and foam. There is a complete cutting diagram for the wood and the foam. I also have instructions on how to finish your hooking so you can complete your rug hooked footstool. Here are the list of instructions available so far:
Missing something? Please let me know so I can make these instructions as complete as possible.
Hooked Examples
Came out pretty darned good if I do say so myself. Suz, I agree. Paint on the legs is by Old Village. Paint color is New England Red.
---