Product Description
This pattern will NOT fit the IKEA Stool.
Finished size of footstool is 16″ x 16″ x 15″ which includes feet that are 6″ high. This is the pattern only for a footstool.
A simple primitive rose flanked by Queen Ann's lace and surrounded by a scroll adorn the top of this footstool. Hook the sides with hit and miss to use up those worms in your scrap bag.
Make your own rug hooked footstool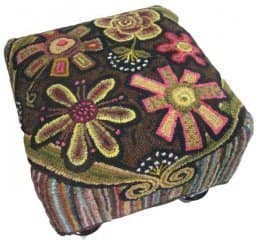 I have several
rug hooking footstool patterns available.
I am posting complete instructions (videos are still being edited) on how to build your own using simple 2x4s, plywood and foam. There is a complete cutting diagram for the wood and the foam. I also have instructions on how to finish your hooking so you can complete your rug hooked footstool. Here are the list of instructions available so far:
Missing something? Please let me know so I can make these instructions as complete as possible.
Hooked Examples
Here is my Rose in Scroll footstool all hooked. Now I just need to get the padding on the footstool base and assemble all the components. When it is all assembled, I'll send you a picture of the completed project.
Thank you for such a beautiful pattern.
Rita Thomas
---

I am so happy to say that I have finished both the pocketful footstool and the rose scroll footstool. I absolutely love them.
Thank-You Cindi for a fantastic pattern and for great how-to instructions. I enjoyed Hooking and putting these two items together and now displaying them in my home!
---