This pattern will NOT fit the IKEA Stool.
Finished size of footstool is 16″ x 16″ x 15″ which includes feet that are 6″ high.
This pattern is simple enough to be hooked in very large cuts or use smaller cuts and introduce a lot of variety. Add more dropped petals if desired.
Make your own rug hooked footstool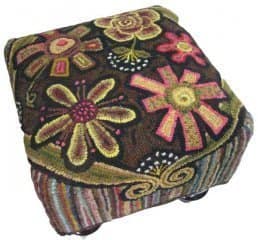 I have several
rug hooking footstool patterns available.
I am posting complete instructions (videos are still being edited) on how to build your own using simple 2x4s, plywood and foam. There is a complete cutting diagram for the wood and the foam. I also have instructions on how to finish your hooking so you can complete your rug hooked footstool. Here are the list of instructions available so far:
Missing something? Please let me know so I can make these instructions as complete as possible.
Hooked Examples
I am enjoying your weekly live sessions, though I never seem to get to it live, but rather later. Also the color planning course is wonderful. I have been through it once but am going to go back and do it again.

I really enjoyed this Hooking project. It will finish to be a very useful and beautiful item. I worked with a 4 cut, which is my favorite, and the three motifs – crow, leaf, sunflower- kept me interested. I could be as detailed or as simple as I liked. The background was hooked with a large scale plaid with shades of cream to light brown, but there is a lot of room for all kinds of creativity here. I also appreciate the detailed instructions for assembly, which will be happening soon I hope. Husband take note.