Product Description
Pattern only. Finished size of footstool is 16″ x 16″ x 15″ which includes feet that are 6″ high.
There is a rug called Annie's Flower Power that matches this footstool.
Download these instructions that includes the quantities of wool you will need. These instructions will guide the color planning challenged. Each wool is described, such as "Darkest, for the shadow parts of the rose, I used a red and navy check." You can look at the photo and see what I choose and then make your decision. Maybe you want a purple rose! If you get the values right, the rose will look like a rose regardless of the color. Once your choices are made, the hooking is as easy as hook by number.
Finished size with the padding in place is 16″ x 16″ and 15″ tall when you use 6″ tall, 4″ wide feet.
Buy the footstool for the patterns below from Honey Bee Hive Patterns. Order your footstool right away so you have it on hand for fittings as you hook. You can order it fully assembled or save a bit of cash by ordering it as a kit. Be sure to visit their site for other footstool designs by other designers, including Kim Nixon. Kim's patterns were unavailable for several years after her death. You can order them now from Honey Bee Hive!

Make your own rug hooked footstool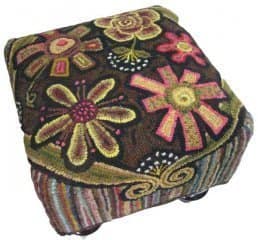 I have several
rug hooking footstool patterns available.
I am posting complete instructions (videos are still being edited) on how to build your own using simple 2x4s, plywood and foam. There is a complete cutting diagram for the wood and the foam. I also have instructions on how to finish your hooking so you can complete your rug hooked footstool. Here are the list of instructions available so far:
Missing something? Please let me know so I can make these instructions as complete as possible.
Student Gallery
I love seeing the finished product whether you used my instructions or not, followed them completely or not. There is no right or wrong way. These instructions are intended to guide you not restrict you.
Hooked by Joan Eaglesham
---
Hooked by Beth Sowell Fischer
---
Hooked by Barb Lindh
---
---
---
---