I still have some patterns left over from the ATHA National Show. The kit includes photos of the project, all the wool you will need, the pattern and written instructions. Update: These kits are sold out, but I can custom color plan any pattern you like. Just get in touch with me. There would be a charge for a pattern like this because the wool quantities are so small but you need a huge variety to get it right.
Some hooked examples:
*click on the photo to enlarge it to fit your screen. Click on it again to see it even closer.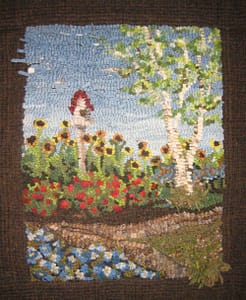 Jane was originally scheduled to teach the class and had her example ready. Her colors softer than mine and she changed the pattern a bit differently than I did but it gives you a good example of what can be done with this pattern.


Here's what Leigh Ann said about her hooked mat:
Hi Cindi
I was in your evening class at the ATHA biennial. I finished by "Garden" and wanted to show it to you. This is the 7th piece I have done. There aren't any rug hookers here in Memphis, so I appreciated taking your class and all the instructions you provided. I bought your book and found it useful. This was challenging for me. I picked out so much and I change it a little. I hooked a brown frame and stretched it over a 1/4 plywood board. I didn't find much information for stretching your work. Is that a weird thing to do?

Thanks for your class.

Stretching is not weird at all. A flat piece of plywood as you did for small pieces or artist's stretcher bars work. Get a layer of something in between your hooking and the wood. Varnish, muslin, etc. Not sure what works the best, but anything to slow down the acids from the wood from getting to your backing.