A Website Where YOU Control and Maintain the Content!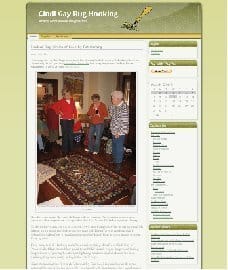 No more waiting for your website person to fix a typo or update your information. You are in control because YOU do the input. A website is a must for any rug hooker. You can share your rugs with friends and family just by giving out your website. For rug hooking teachers it is a must. When your name appears on a workshop's list of teachers, most students will Google your name. Will they find you? Use a web site to show a gallery of your work. You can sell items through your website using PayPal, a safe and easy to use internet payment system. List your contact information so students and directors can reach you. If you can send an email with a photo, you can create content with pictures for your web site.

Initial set up:, this includes your first year of hosting and domain registration. Click here for an explanation on how to do it for free.


The set up fee is a one time charge that includes:
Registering/transferring the domain name of your choice.
Setting up a customized email such as yourname@yourwebsite.com
Installation of a theme of your choice with customized colors.
Placement of photos in the header or background, if desired.
Installation and activation of free plug-ins based on your needs. On my site I am using an email subscription service, automatic backup, contact form and others.
No per page fees because you can create as many pages as you like on your own.
Telephone support. This means you have someone to call –me!
Placement of view cart button for PayPal and I will walk you through how to create PayPal buttons for each item you want to sell. If you want a more elaborate system, I can help you choose your system. There may be software fees involved depending on the system you choose.
Backups and upgrades.
You will be creating and typing in your own content. I will be there to guide you when you get stuck. Later, when you need to change the information, you just log in, make the changes and hit update. You are in control.

WordPress is a very common platform for a website. There are many books, instructional websites, and videos just a click away.


Yearly fee: due each year beginning 11 months after initial setup. Hosting must be paid in advance.  The first year is included in the setup fee.

This will be billed to you automatically 60 days before your due date and must be paid in full 30 days before the anniversary date to continue service.
Optional: Spam filtering $15.00 additional per year.
More Technical Stuff
Website is based on a WordPress Installation
Code is CSS based and does not use tables
Anti-spam service is available for each email address for an additional $15 per year
Favicon added at no charge.  I need a 16 x 16 pixel image.  Look at the browser tab above.  My favicon is a tiny hook.
Please contact me for a quote if you would like a completely customized design or a copy of your existing site. This package includes installation of a free theme with minor customizations such as color changes or header image. See the www.wordpress.org site for a wide range of choices. The themes I prefer are premium themes. You may choose one of those if you prefer. I own a license and there is no additional charge unless you cancel this service with me. You would have to purchase your own license to continue using the theme.
The website you are viewing now is a fully customized WordPress site. For a custom design, please contact me for a quote. In most cases, I can make your new site look just like your old one – except YOU can control the content. No more waiting for your webmaster.
If you decide that you want to discontinue this service, I will transfer your domain name back to you. There may be a fee involved from your new hosting company, but I do not charge for this service. I will email you a copy of your complete database for re-installation on your new host and I will back up and email to you a zipped copy of your current theme if it is a custom theme. Many of the themes I use are based on the Genesis theme. You would have to buy your own license to continue using the theme. All others can be downloaded to your new hosting company from the original provider. You can discontinue hosting at any time, but no refunds for the unused time will be made. Installation on your new host is not included.  Most hosting companies will transfer your website for you.