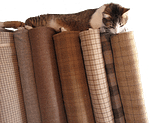 Janice asked me on Facebook about selling 1/2 yard pieces of wool.  I've decided to give it a try.
UPDATE: Feb 2014. I installed a new shopping cart. Every wool I offer is available in a full yard, half yard and even a 1/16 yard prewashed, ready to hook strip.
Looking for hand dyed wool?  I will custom dye wool for you, just contact me using my contact page or give me a call.
Need enough for a whole rug?  I offer color planning service just like the type you would get for a workshop.  Be sure to check with me for availability.  It may take a while if I have other commitments but this is an inexpensive way to get the workshop experience without the time and money involved in travel.
If you use Facebook be sure to "Like" my page.  You will automatically see any coupon codes I will be offering.  I am still working on the programming for that feature, but hope to offer coupons this winter.