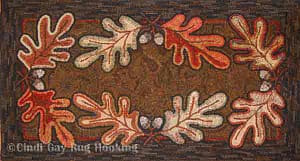 (Almost) instant gratification. I designed this rug pattern for Karen. She described what she wanted during our time together at Cedar Lakes rug camp in May of this year. The plan was to hook it at Cape May in September . . . and now it is done! In rug hooking terms that is almost instant.
I just wanted you to know that I finished the table runner this past Saturday and delivered it to Carol on Sunday! I ended up taking out one of the wools you had included for the border and adding in three of the darker browns from the interior background to make the border 'connect' more to the overall rug. In three of the leaves, I used a darker brown wool for the veins so they would stand out a little better against the reddish wools. The only other change I made was the wool for the acorns…I ended up using two different plaids (one for the caps, the other for the acorn bodies). I think the entire rug looks really great and Carol LOVES it in her dining room! I've attached a few photos to show you.
Carol, I agree. It looks great! I love that you trusted your instincts and felt free to change my initial plan.
Here are some closeup photos.

Looks good from every angle! To see more hooked examples of this pattern, click on the menu item in the sidebar under My Patterns.